March 12, 2012—UE Local 150 mental health workers from across North Carolina gathered at the state legislature on Tuesday, March 13 and delivered a strong message to the Joint Legislative Oversight Committee on Health and Human Services. That message, delivered through a press conference, media coverage and a silent protest inside the committee meeting, was "Listen to Workers." The union members were joined by Rev. William Barber II, president of the North Carolina NAACP and delivered 2,000 post cards demanding the passage of Mental Health Workers Bill of Rights (House Bill 287, Senate Bill 481).
The joint committee is the legislative body with authority over the Department of Health and Human Services (DHHS), the employer of UE members who work in the state's mental hospitals. For months the UE Local 150 DHHS Council has requested the opportunity for workers to address the committee over serious problems that adversely affect mental health workers and their patients. The committee's co-chairs, Representative Dollar Dollar and Senator Louis Pate, have repeatedly denied their requests.
Although they were again denied the chance to speak at the March 13 committee meeting, the group of about 20 workers entered the committee meeting room. Adhering to the rule that restricts the right to carry signs inside the legislature, they wore red union T-shirts, and members pinned small signs to their shirts, each containing one letter. They lined themselves up to spell out the words "LISTEN TO WORKERS," as they stood before the committee in silence.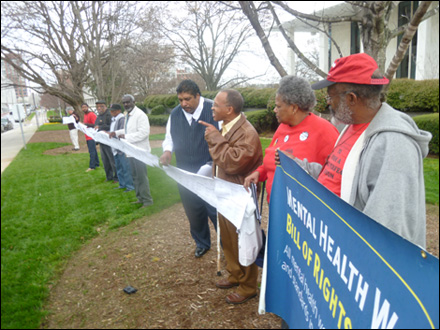 The group also delivered packets of information and a letter highlighting several issues of poor working and service conditions in state hospitals. These issues include high rates of worker injuries at Cherry Hospital; the sudden release of several hundred privatized workers who were not immediately replaced by state workers at Central Regional Hospital, resulting in severe understaffing and forced overtime; and the unjust firing of 10 workers, whose reinstatement UE150 helped win, as well as six other discharge cases still pending. These improper firings have thus far cost the state over $2 million in back wages, legal fees and training costs, and have imposed huge financial hardships and other burdens on the affected workers.
Kevin Yancey, a youth program assistant 2 at Murdoch, one of the speakers at the press conference, explained why they went to the legislature. "The more we would call the legislative members, the less we would hear from them. We'd hear from their staff that they'd 'get back to us,' but they'd never get back to us." He says the union got good press coverage - "We had at least three TV stations cover the event as well as AP news," and added, "We had a great time, I can't wait for the next time. I realize that, with the control of the house being in the hands of the Republican Party, we can expect that we're going to run across a lot of opposition. And we did have a touchy moment. From the moment that the head of security laid eyes on us, we could expect that we were going to have some opposition. He escorted us when we went into the general assembly, all the way in, and escorted us all the way out when we left. And he had this look like he could just spit bullets. And yet the union members were just so composed and in control, the way they conducted themselves"... [read more]